Melissa Wilson and Telemedicine, Healthcare and Working Parents
SHARE THIS ARTICLE
Get insights in your inbox.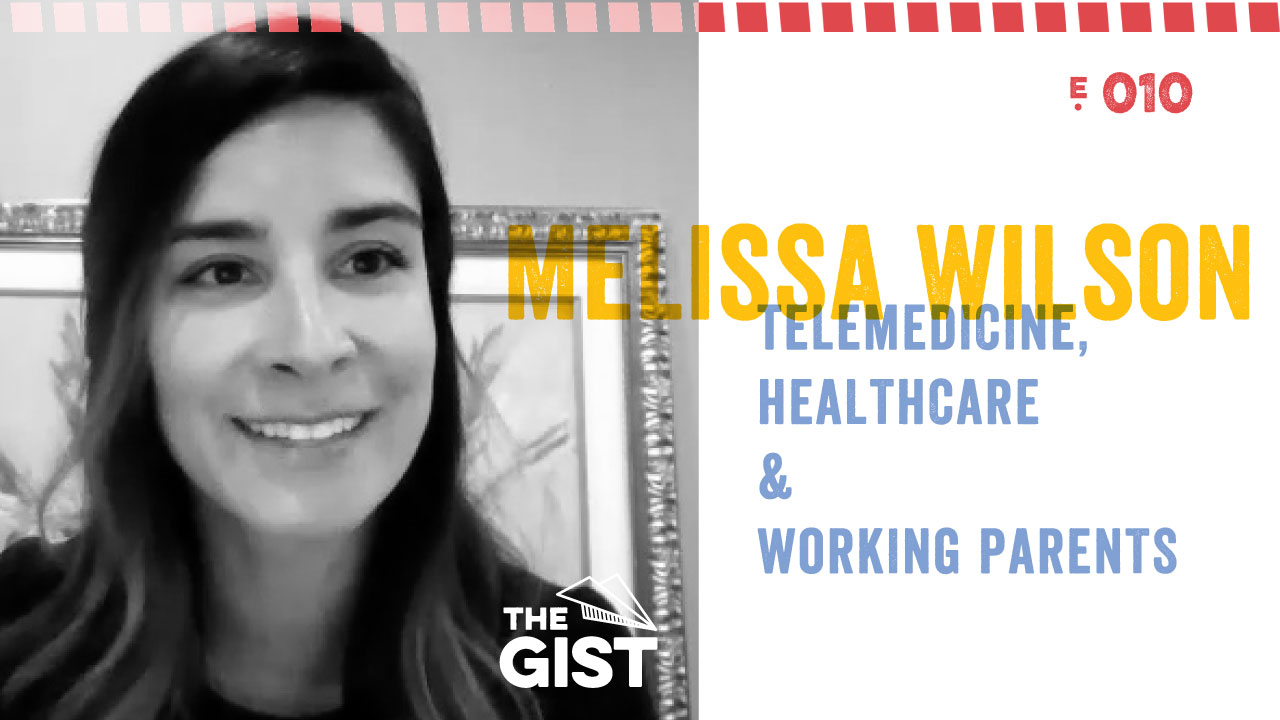 Melissa Wilson is the VP of Customer Engagement at EZaccessMD, a mobile tele-health company based in Rochester, New York. EZaccessMD partners with employers to offer an innovative and revolutionary benefit to their employees and their families. Enrolled members can access healthcare remotely through telemedicine technology while also having healthcare providers come to them to conduct patient visits at their homes. Melissa talked about how she's adjusting to life during a global pandemic professionally, while also being a working mom. We also discussed the importance of a solution like EZaccessMD can offer for people who need medical care but would prefer to steer clear from hospitals and other public places where they can risk infection. Enjoy!
Melissa and CJ Discuss COVID-19, Telemedicine, Healthcare and Being a Working Parent

Full Conversation Transcript
CJ Maurer:
Hey, everybody. CJ Maurer here, back again with Melissa Wilson. Melissa is the VP of Customer Engagement for EZaccessMD. They are a telehealth company based in Rochester, New York. We've actually connected before on a similar format, so this is kind of fun, but I really wanted to get Melissa on not just because she's a really smart and nice person who I enjoy speaking with, but also because telehealth and telemedicine is a really big deal right now. So I think there's a lot of interesting things to talk about, and I'm very curious to hear how her organization is doing and what she thinks might play out in terms of larger societal shifts, in terms of how we seek health services and medicine, but we'll get into that. First of all, Melissa, how are you?

Melissa Wilson:
That's a loaded question. I feel like I'm doing my best, which is what I think we can expect. That's all we should expect from everyone right now during this time. We've all seen a huge shift in our lives, both personal and professional. So I think I'm doing well, but I'm glad to be back here with you, even though we're not together in the same place. You are also a nice person to speak to, so I'm happy to be here.

CJ Maurer:
Thank you. I appreciate that. Just before we started recording, we were talking about our kids and how we both have two kids, a boy and a girl, and how mine aren't school-aged yet, but yours are. I know you just said really quickly it was hard, but describe to me what that's like, having to administer a curriculum in addition to being a parent and working.

Melissa Wilson:
Yeah. I think there's different challenges, right, that come with different ages. So it's easy to say that because yours are younger than mine and not part of this distant learning environment that we now find ourselves in, some people are saying, "Well, I've got teenagers and I don't have to do the one-on-one learning," but every single age group comes with its own unique challenges. I think that having a kindergartner and having a second grader, it's been trying at times. We're just trying to make the best of it and keep smiles on all our faces at the end of the day and do our best and have fun, but also with these ages comes some level of awareness, which for younger ones maybe isn't quite there yet. So we've had to answer a lot of tough questions about what's going on. Challenges that people are facing. Why we can't see our cousins and aunts and uncles and why we can't go the places that we enjoy going as a family. If we do, it looks very different. Masks, quite frankly, freaked my kids out.

CJ Maurer:
Yeah.

Melissa Wilson:
It's been an interesting time. It's surreal. On the EZ side, I think telemedicine has been thrust into the forefront of this pandemic because it's ultimately the safest way for people to seek the care that they need. People are still getting the flu and still getting sinus infections and still dealing with right now poison ivy and all of the different things that come with spring to summer season changes. Just the normal common things that are still happening, that are not maybe coronavirus, but many of the symptoms are similar and people need to know that they can be supported. Not only our business, but businesses that are used to doing things a different way have had to look at their business model and decide how they can help their community during this time.

Melissa Wilson:
So it's been really interesting just as a person with a passion for marketing to see how some of these businesses have really stepped up, especially in our community here in upstate New York, and changed at the drop of a hat what they were doing. Now they're doing something different to help the community in a time of crisis. So that's been an interesting thing to see happen all around us, and I'm sure that you can think of some examples of that and so can I and many of our clients, LiDestri being one of them, that just started manufacturing hand sanitizer because that was the need. So it's been amazing to watch from that perspective. I'm always-

CJ Maurer:
Who is LiDestri? I'm not familiar. Who is LiDestri? That name sounds familiar, but I don't know the company.

Melissa Wilson:
LiDestri Food and Drink. So they do a lot of tomato sauce. They do big manufactured goods. We've got a large facility in [inaudible 00:04:49] Port and they also have employees across Pennsylvania and New Jersey. They're rather large, but mostly-

CJ Maurer:
[crosstalk 00:04:57] Now they're making hand sanitizer.

Melissa Wilson:
Sorry?

CJ Maurer:
Now they're making hand sanitizer.

Melissa Wilson:
Right. Yep, from tomato sauce to the hand sanitizer. They've done a ton in the community. I've been watching it closely, but donations of things to FoodLink and all of the things that not only them, but organizations in our community are doing. Another one of our clients is Trillium Health. Right out at the front of this, they had set up triage tents in their parking lot. Very sophisticated testing for people that wanted to get tested and didn't have insurance or didn't have means, and making those tests available to people that may not have otherwise had access to them. It's really fascinating to see. I think Rochester is lucky in that we've had a lot of really great businesses here that have the people in our community at mind when they're making their decisions.

CJ Maurer:
Yeah. You're definitely seeing that in Buffalo. You're hitting on something that really makes me feel like ... There's kind of two overarching feelings I have about this whole thing. The one is there are people who have lost their job and their livelihood and-

Melissa Wilson:
Yeah, absolutely.

CJ Maurer:
That's really, really unfortunate. It's nice for them to see other people in the community responding. It's nice for them to see that the government to some extent is trying to help them out during this time, but those people are really tough and I really feel for them. I wish there were more things that we could do, and maybe there are. We just haven't figured it out. So I'm just really mindful of them because stark contrast is really how fortunate I have been. I do think it is a privilege ... I will call it a privilege to have chosen a line of work where I've made my way into a line of work that isn't largely disrupted by this, and that I can continue moving forward without being deeply concerned with how I'm going to provide for my family or overall health, safety and well-being. That's really good.

CJ Maurer:
If you can put aside the unfortunate damage for a minute, which I don't want to ignore, which is why I brought it up, it is impossible not to also see all of the really good that's come out of all of this, just in terms of just people pivoting, innovating, really showing compassion and care for other people. I just think that's really tremendous. I think there are certain things about this that people will always look back on very fondly, and I hope some of these things will carry with us when this whole pandemic subsides, if it does.

CJ Maurer:
I don't really know. I'm not going to pretend to know, but yeah. I'm really glad that you pointed that out because I think it's important to focus on the positives as much as possible, not at the expense of ignoring the great collateral damage that is happening and hoping that these people can find a footing or either get their way of making a living back or have it subsidized in some way or do something in the meantime. So I really hope that can sort itself out, but yeah. Overall, there is a lot of good.

CJ Maurer:
Just talk about kids, right? My kids are probably loving this because they're four and two. So they don't hate us yet as parents. They love spending time with us. They love it when we play with them and we build legos and we go on walks and we watch movies and whatever. They're getting more time with mom and dad and that's awesome. That's something I know I'm really treasuring.

Melissa Wilson:
Yeah. There's a balance, right? People are going to look back on this and have mixed emotions, but I think at the end of the day, this common mantra that I keep hearing, "We're all in this together," is finding ways to help people that are less fortunate or are restricted in some way. For EZ during this time, the fact that we come to you, our technologists go to our members' homes, means that they don't have to find a way to seek care. Some of our members don't have transportation. They don't have a means to seek healthcare at all. They're taking buses or public transportation to try and do things in a somewhat normal way while everything has been disrupted is just difficult.

Melissa Wilson:
Sometimes it's not even an option because I know personally, I have heard from many of our members that have tried to get in to their PCP or go to an urgent care for something and they won't see them or there's significant delays in how soon they can get in to see someone. So the fact that we're 24/7, we're going out to the home, we're still there for our members who need us during this time. Of course, we're doing a coronavirus screening. If you're at high risk, our doctors can provide support. You wouldn't be eligible for a mobile visit, but for anyone else that's just got these common things that we deal with every day, that maybe now we have less of an option of where to go to get them cured or treated, we're still in homes every single day, knowing that you don't have to worry about being in a germy office and wondering, "What am I picking up? What risk am I taking by putting myself or my family member in this environment during this time?"

Melissa Wilson:
You don't have to have those concerns. Our techs come out. They're fully geared with PPE, head-to-toe, so that you're safe, they're safe and the community is safe. Here in Rochester actually, we ... Our sort of parent company, if you will, has partnered at some level with Rochester Regional to help support them in keeping people out of the hospitals that don't really need to be there because if you don't need to be in a hospital right now, you shouldn't be. That's just an unnecessary risk, really. It's these types of things that I think I keep trying to look at as the silver linings to come out of all of this.

Melissa Wilson:
People are generally becoming more comfortable with telemedicine in general, with talking to a doctor remotely, with the technology that they need to be able to be comfortable with to use it for it to be effective for them, an effective means of accessing healthcare. So there's been a lot of changes. I've been excited to see it because basically, we're on front lines-

CJ Maurer:
Describe a little bit more, for those people that don't know, what is EZaccessMD? What do you guys do? I think people, anybody who's watching or listening is starting to figure it out, but yeah. What this [inaudible 00:11:59]?

Melissa Wilson:
Sure. I don't know about you in Buffalo, but it just went from sunny skies here to torrential pouring rain and gray cloudy skies and thunder and lightning. So if there's anything about our day or every day, how unpredictable it can be, is the weather here in upstate New York.

CJ Maurer:
Yeah. If you don't like the weather, just wait a day. Yeah. We down poured about two hours ago here for a little bit. Now it's just drizzling and dreary.

Melissa Wilson:
Yeah. No. It looks like it's come our way, but sure.

CJ Maurer:
[crosstalk 00:12:35] [inaudible 00:12:35] for my vegetable garden, though.

Melissa Wilson:
Yeah. We have started one. Have you?

CJ Maurer:
Yeah. Just this year.

Melissa Wilson:
Oh, great.

CJ Maurer:
I've wanted to do it for years. I've probably talked about this on every single episode that I've done.

Melissa Wilson:
Recurring theme.

CJ Maurer:
Just because I'm excited about it. Yeah. Well, I just realized that if I never did it now, then I would just never do it. I'd just be a chump who runs his mouth, so I finally ... I built a nice raised bed and I'm having so much fun with it. Yeah. So EZaccessMD. What is it?

Melissa Wilson:
Nice. I like to call us a tech startup. I don't know. We were founded in 2016. So can you still call us a startup? I'm not really sure, but I just love the mentality of a startup, where it's just fast-paced. Everyone is wearing multiple hats, getting things done. Things move quickly. Growth happens quickly and I just love the roller coaster ride. So I guess even maybe when we're 10 years old, I'll still be calling us a startup. But we're essentially the only mobile urgent care provider in western New York. Not only that. We are operating out of six different states across the U.S. and we provide service to roughly 25,000 members who have access to low acuity healthcare at no cost that comes directly to them.

Melissa Wilson:
What that looks like is different for our members based on the level of eligibility. For example, if they're in an area that is mobile eligible, then they have techs that can come to the home or the workplace and run diagnostic testing, medical imaging. We can do roughly 85 percent of what can be done in an urgent care setting, just with the technology in our kit, and then the portable X-ray and ultrasound technology that we have as well. Then some of our members are just phone only, traditional telemedicine users. So we've got several clients and employees across multiple states. Sometimes they have somewhat of a blended program, where some of their employees are eligible for full service and some are eligible for just phone only service until we're up and running in their area.

Melissa Wilson:
Yeah. It's giving people the experience of healthcare that they have come to expect with just about everything else. It's this consumer-driven style of, "I want it now. It needs to be convenient. It needs to be free. It needs to be dropped off at my doorstep because that's the only way that fits my lifestyle."

CJ Maurer:
Well, when you think about it, we've Door Dashed pretty much every other aspect of the things that we buy or consume. You know what I mean?

Melissa Wilson:
Right.

CJ Maurer:
Or if not, we're in the process of doing that. Right? Basically service on demand, service delivered, a la carte, self-serve, self-order. The friction has been reduced in order for us to access so many of the goods and services that we want or need and the [inaudible 00:15:24]. The question would be, "Well, why not healthcare?" Well, the reality is it's been that way for a while. I know some physicians who have been beating the drum on telemedicine. Physicians who have been running large specialty practices here in Buffalo who have been banging the drum on telemedicine for the better part of this last decade just because they believe in it. They believe in how it can provide more access to people, make it more efficient for not just the patient, but also the doctors.

CJ Maurer:
A lot of times, a quick consult ... You don't need to drive wherever you need to drive, right? When you think about, too, if you don't live in a major urban center, in order to see the specialist you need, you may need to drive an hour, hour and a half, and maybe then you sit there and you wait in line for who knows how long, where it's really just a consult and you need that time with the doctor, but how can we ... You know what I mean? Make that doctor and that medical experience or expertise rather more accessible?

CJ Maurer:
I have a friend who lives out in Portland, Oregon. When this whole thing went down, she thought that ... I don't know. She thought she had strep or something. I don't remember exactly, right? But she was telling me this story about how she held up her computer and allowed her physician to look into her throat. She was laughing because it felt weird at first, but it was extremely productive. She got whatever antibiotics or medicine she needed and she was on the mend. It was just as effective as if she would have seen that doctor in person.

Melissa Wilson:
Right.

CJ Maurer:
Just that one snapshot. That made me think of you. I didn't reach out when ... Because this was probably two months ago, I had this conversation with her, but that made me think of you and what you guys are doing. I wonder if you think ... Telemedicine obviously has existed. Most people have a frame of reference for what it is, although we haven't totally adopted it yet. Do you think this is going to be a major catalyst for Americans at large adopting-

Melissa Wilson:
Absolutely. Absolutely. Whether they're forced into it or not, but as you say, there have been physicians that have ... They were early adopters, right? They've embraced this and they've tried to push it out there, so that more people can take advantage of the benefits of telemedicine, but it was never really something that the masses became comfortable with. There's been some barriers in place. We've figured out, "What are these barriers to people using telemedicine? Why aren't they using it?" It's helped us in our business model to remove all those barriers, which is attributed to very high utilization rates of our benefits.

Melissa Wilson:
We're telemedicine to the next level because whereas your friend held up her computer ... That's going to give you an okay image of the throat, but if the tech can come to your home and use a throat camera or camera and otoscope to get really clear, close HD images and transmit them to the physician 300 miles away for them to read and review. You're going to have a better accuracy. You're going to have a safer diagnosis and better results for the patient. Better patient experience as well. So it's all of the things that are great about telemedicine that are finally now ... People are needing to embrace. Not having another choice, really. I think that once we ... I don't want to say come out of this because I don't think we'll ever truly go back to any type of life that was as we were before COVID. I think it will always look different, but people will be evaluating their experiences with telemedicine and expecting more because that's what happens.

Melissa Wilson:
When something gets pushed on us and we have this experience, we develop this perception of it. You want to evaluate, "Well, how can this be better? How can this be different? How can we do better for members?" So I think that it's the perfect opportunity for EZ to shine and help more members in our community, really. Then I anticipate that there's going to be probably more businesses doing what we do and elevating the level of concierge style healthcare services they're offering to their patients, which will be nice to see because as a mom of two kids with a full-time job and a husband that has a full-time job, sometimes it's nearly impossible to get my kids in person to a well visit or a ...

Melissa Wilson:
If I already know they have an ear infection, I just need to go there so that the doctor can look in their ear to get the antibiotics. I already pretty much know what I need. It's pretty disruptive on our lifestyle. It's hard. Healthcare shouldn't be that difficult. It's already too expensive. It's already too hard for the average person to get the care that they need. It shouldn't be this difficult. It shouldn't be such a pain, and that's what we're trying to do is improve people's access to healthcare, make it more affordable and less of a pain, really.

CJ Maurer:
There's some efficacy around your model to begin with. First of all, telemedicine, right? But also, I don't know if "concierge" is the term that you use for it, but the fact that you'll come to them as well. There are home care agencies, right? Now normally, it's associated for senior populations.

Melissa Wilson:
Seniors.

CJ Maurer:
Right, but we don't normally think about that for the general population. That seems incredibly attractive to me. It makes me wonder why I haven't done that. I'm somebody who likes to embrace all of those things, but I'll give you a perfect example. I used to go to a family general practice. Just a primary care physician. It was a huge practice. I could never call and talk to anybody. Literally, I would call and it would be a busy signal. Wait 10 minutes, busy signal. Literally, I couldn't even get to the receptionist.

Melissa Wilson:
That's so annoying.

CJ Maurer:
Yeah. Then I didn't make my next appointment. Then I blinked and it was two or three years since I last saw a primary care physician. So I was like, "You know what? I need to do this." So I researched primary care physicians still accepting patients and I found a new physician. I saw her a couple months ago. It was great, but it makes me wonder, would I have preferred the first visit to be virtual or have her come to me or have a physician's assistant and he come to me? I don't know.

CJ Maurer:
Maybe it was good that I met her firsthand, but now moving forward, I'm thinking with the amount of time it takes to find an opening and then travel and that whole thing, I would be so much easier if on regular checkups or if I was sick or something, just to have that option.

Melissa Wilson:
Absolutely.

CJ Maurer:
I think if it's forced upon us now, right? It's one of those things where once you try it, it's like, "Well, we should be doing it this way."

Melissa Wilson:
Right. You want to have that convenience all the time. Once you get a taste, you don't want to go back to doing things the way you did because you've seen the convenience. You've seen the time it saved you and you've got the same result in most cases. Why go back to doing it any other way?

CJ Maurer:
I had a friend tell me he got the Apple AirPods. I was thinking about getting them and I said, "Hey. What do you think about those?" He goes, "Honestly, CJ, they're awesome. They're so awesome. This sounds so corny, but I can't believe I ever had wireless earbuds before." I just use that as an example of almost anything. Any time we get used to a convenience, we never want to go back. If you have a dishwasher, who's going to wash dishes manually? Right? Just silly stuff. Anyways, so-

Melissa Wilson:
Yeah. Once you have a Roomba, you're never vacuuming your floors again.

CJ Maurer:
Right. That's right. Manually moving a vacuum just feels so 18th century to me.

Melissa Wilson:
Right. Amen.

CJ Maurer:
No. Yeah, but no. That's a good point. I think it'll be really interesting to see how all of this proliferates. Where do you think it starts? For your particular organization, you need employers to bring this down as a benefit. Then that's how the employees can offer it. Do you ever see ... I don't know if EZaccessMD has this as a model or if this will proliferate at some point, where just maybe somebody without a physician wants to get a physician and wants to either do it remotely or have somebody come to them? Is that an option now or do you think that ever will be?

Melissa Wilson:
Perhaps. I think we've seen such a significant growth during this time, just in the last three months of this global health crisis that we find ourselves in. There's substantial signs that telehealth isn't going away. This has forced us to accelerate the mainstream take up or acceptance rather of telemedicine. So while we don't offer it to individuals and families that just want to sign up for a service right now, I can see that very likely we will in the future. Right now, it's just an employer-based benefit, really. Something that they want to give their employees because they recognize all of the barriers to healthcare. The barriers to healthcare, the burden, the costs. They want to keep their employees well.

Melissa Wilson:
So many benefits. So many soft benefits as well that sometimes we even forget about just the cultural impact of making this investment on behalf of your employees and giving them access to free healthcare. Our utilization rates in the first quarter of this year were 125 percent. That was across all of our clients. At a time of need, when people are quite frankly scared and worried and it's unchartered waters. You don't want to put yourself or your family in any elevated level of risk. This benefit, we get just so much feedback from our members that have used services, specifically in the last few months, that they really didn't know what they were going to do if they didn't have EZ.

Melissa Wilson:
I think that once businesses ... We're already seeing it in our southern states, but once businesses here in New York, where I feel like we're still kind of finding that curve and maybe not on the other side of it yet, but that's just my own opinion ... Once we get over the hump, if you will, then people are going to be evaluating their programs and looking at what worked and what didn't. What did people like? What challenges were there with it? Looking for better alternatives. So we're going to continue to see significant growth, and I think once we get to a point, we will then be able to handle taking individuals who want to sign up themselves or their families, but right now it's pretty much only employer-paid. Employer makes the decision to bring it on for either the whole group population of employees or some subset. Maybe just those on the health plan, for example, or just those that are full-time. Maybe even just those that are part-time and don't have any health benefit. They can't offer it to them. They give them this.

Melissa Wilson:
So it's really employers' choice. They can choose who to enroll and we go from there. There's different pricing models so that it works for all types of employers. Typically, our clients are in the range of 250 employees to 3000 employees. That seems to be our sweet spot. Then their family members are all enrolled at no additional cost.

CJ Maurer:
That's unbelievable.

Melissa Wilson:
It's pretty cool. It is.

CJ Maurer:
That's really unbelievable.

Melissa Wilson:
Yeah. It's a really exciting time to be in this ... I don't even want to say business because it feels like a mission in life sometimes just to make this healthcare system better for Americans in general, but it's just been really fulfilling because again, silver lining. This time can be really tough and depressing and scary, too. All of the people that we're helping and all the feedback that we get back, it really just fills my cup.

CJ Maurer:
Well, I'm really excited to hear you say that because I've wondered the same thing. Quite honestly, I feel myself ... I get a lot of fulfillment out of what I do. I help businesses stabilize themselves and grow by engaging their customers, and I really, really help small to medium-sized businesses become a lot stronger and more true to their mission. I do take a lot of fulfillment out of that, but I have to say in terms of what you guys are doing in especially this moment, the magnitude of what your work represents, it's envious. It truly is envious that you guys are doing what you're doing because it pales in comparison to what I'm doing, quite frankly, even though I'm very happy with my business and my line of work and I'm very fulfilled with it. It is really cool.

CJ Maurer:
I'm glad that you recognize that because it is really important and I think other people understand that, too. You also brought up how you're not really convinced that maybe we're on the down swing. Whether or not that's true, there's a lot of speculation that ... I'll leave it as speculation because that's as far as I'm credentialed to label it. There's a lot of speculation that even if there is a downswing, there's going to be another upswing in December or January or whenever when it gets cold. Right? So people keeping out of the hospitals as much as possible really helps solve this national public health crisis, not to mention by the way that I've heard a lot of people in the medical industry and the technology industry talk about hospital-borne diseases and infections being a problem before anybody knew what COVID-19 was.

Melissa Wilson:
Right.

CJ Maurer:
There are a lot of businesses that exist to create products for cleanliness and sanitation and air purification and all of these things to limit hospital-borne infections, even in "normal times." Right? The fact that now we have a pandemic that is only elevating that, keeping people out of hospitals ... Not only that, because also it's more expensive, right? Keeping people out of hospitals is in the best interest of everybody, especially when they're overcrowded.

Melissa Wilson:
Right.

CJ Maurer:
I really commend you and your organization and the stuff that you guys are doing. It's really cool. I'm definitely going to continue following along. It's been weird, but reassuring to know that there are people out there like you guys along with all the first responders that are actually making these significant, substantial difference in what's going on.

Melissa Wilson:
Thanks. You bring up a good point, too. It's all about keeping people out of the hospitals, not only because of the cost, but because of the risk, but also because we're protecting our doctors and nurses that way. So the last people that we're sending reduces the burden on them, really. We're going to need them. They're our frontline first line of defense. So when we can help support them by keeping people that don't need to be in the hospital out of hospitals, then that lets them do the critical work that they need to do and have the room and have the resources and not be totally burnt out because they're there all day every day because they can't catch a break anymore in a global pandemic.

Melissa Wilson:
So it's been interesting to see how doctors and nurses and all medical professionals are all essential workers and come together to ... I don't think that bond will ever break now. It's just been so critical to see how we've set all sort of previous regulations or guidances aside and just banded together for people.

CJ Maurer:
Yeah.

Melissa Wilson:
Humans. It's been reassuring.

CJ Maurer:
I'm glad you brought that up. Two of my brother-in-laws, two of my wife's brothers, have served in Iraq and Afghanistan. One of them is still in the army. The other one got out and went to PA school and is now a physician's assistant here in Buffalo at a major hospital. This younger one, I remember worrying about him when he was in Afghanistan doing all the things that he did there. I worry about him now in a similar way. Maybe not quite as much, but he tests people for COVID-19. That's part of his job. Then he treats those patients. My sister, she's a nurse at Dartmouth Hospital in New Hampshire. I worry about them often because they're the ones who are doing the necessary work, right? So that we can all live normal lives, putting themselves at risk.

CJ Maurer:
I always like when at sporting events or whatever when they honor people in the military and things like that, but I've really, really enjoyed this ... Part of this whole situation that I've enjoyed is watching medical professionals, teachers and a whole bunch of other professionals really be elevated to that level of importance because quite frankly, everything they do is a lot more important than what I do. It allows me to run my marketing agency and talk to people like you on a recorded Zoom chat.

Melissa Wilson:
Well, you're doing what you love. Not many people get to do that either. So that's something to be commended as well, but yeah. Now I just think about all the people working in the grocery stores and the people that are delivering our packages, so we don't have to go into the stores. It's crazy to think of all the people in this community that maybe have not been held to a certain standard before all of this. Now we recognize their importance in this ... For this whole thing to work because I don't know how I would have done it if I couldn't get things delivered to my house, my groceries delivered to my house, if I didn't have the certain essential things that we needed there for us.

CJ Maurer:
We just talked about how we have vegetable gardens, right? We're taking a little bit of that into our own hands.

Melissa Wilson:
Small part.

CJ Maurer:
I don't know how to grow chicken or the little yogurt pouches my kids like. So definitely. That's all really important.

Melissa Wilson:
Yeah. My neighbor texted me this morning that she's getting chickens. We live in a suburban pen field. No one in our neighborhood has a chicken coop, but she's decided this morning she's getting chickens.

CJ Maurer:
That's cool. My in-laws have them.

Melissa Wilson:
Yeah?

CJ Maurer:
Yeah, they do. They've had them for ... I think this is the second summer.

Melissa Wilson:
It's fun. Especially if you have kids and the kids get involved. It's just changing the way that we live.

CJ Maurer:
Yeah. Well listen, Melissa. I have to say, as always, I really enjoyed talking to you. I really appreciate taking the time and providing some insight, not only into EZ, but also to the speculating about telemedicine as a whole. I think it's really important and I'm glad that you and yours are out there doing what you're doing.

Melissa Wilson:
Thanks, CJ. So nice being on to talk to you. Just anybody that is out there listening, stay safe. Stay sanitized. Stay six feet away.

CJ Maurer:
Perfect.

Melissa Wilson:
Do all the things.

CJ Maurer:
I'll make sure I include a link to your website as well when I publish this. So anybody who's watching or listening, there will be a way to learn more about EZaccessMD.

Melissa Wilson:
Awesome. Thanks, CJ.

CJ Maurer:
Thanks. Take care.
Connect with Melissa