Customers have high expectations from the brands they interact with and always look forward to an excellent customer experience. They want to be in control of the processes, often opting for a self-service solution. As such, having a B2B customer support software comes in handy to help you track and manage complaints while working efficiently as a team to resolve pending issues.
The HubSpot Service Hub is a fantastic customer service software designed to help companies improve the customer service experience and delight more customers. The tools available in the Service Hub make it easier for your company to deliver beyond your customers' expectations. Plus, they help your business solve significant customer service problems common in the B2B markets.
Here's a look at five of the most prevalent challenges in customer service and how HubSpot Service Hub can help you address them. They are as follows:
1. Poor Response Time
B2B customers can be just as impatient B2C customers. Nobody expects to wait days for a response from a company representative. They want the issues they raise to be resolved promptly, lest they take their business elsewhere. Unfortunately, many companies don't consider their customer response times a central aspect of their brand identity.
Your response times can make or break your business. A recent Customers' Report shows that customer experience is a factor that has overtaken price and product as a key brand differentiator. You, therefore, want to have reasonable and reliable response times as part of your service delivery.
Slow response times can damage your brand, business, and revenue. Statistics show that:
68% of customers stopped doing business with a brand because of poor customer service
61% of customers on social media expect a response in less than 24 hours
34% of customers want their issues resolved quickly. They value this as one of the most critical factors of customer support
These figures show you that customers have a high expectation for a quick and efficient response. Without meeting this expectation, your business is at risk of losing a significant portion of your customer base.
Solution: Ticket Pipelines
The HubSpot Service Hub comes with the right features to help you get over this challenge. The ticketing system allows you to easily capture customer issues and resolve them promptly. The tool will enable you to set up different pipelines for your tickets, separating internal tickets from external ones and sorting them across various teams. This way, you can be assured that each ticket reaches the relevant person.
Ticket automation increases the efficiency of the process by removing the manual work of sorting the tickets. Each ticket captures the entire record of the issue. Support staff can create tasks, leave notes, or email people right from the ticket itself.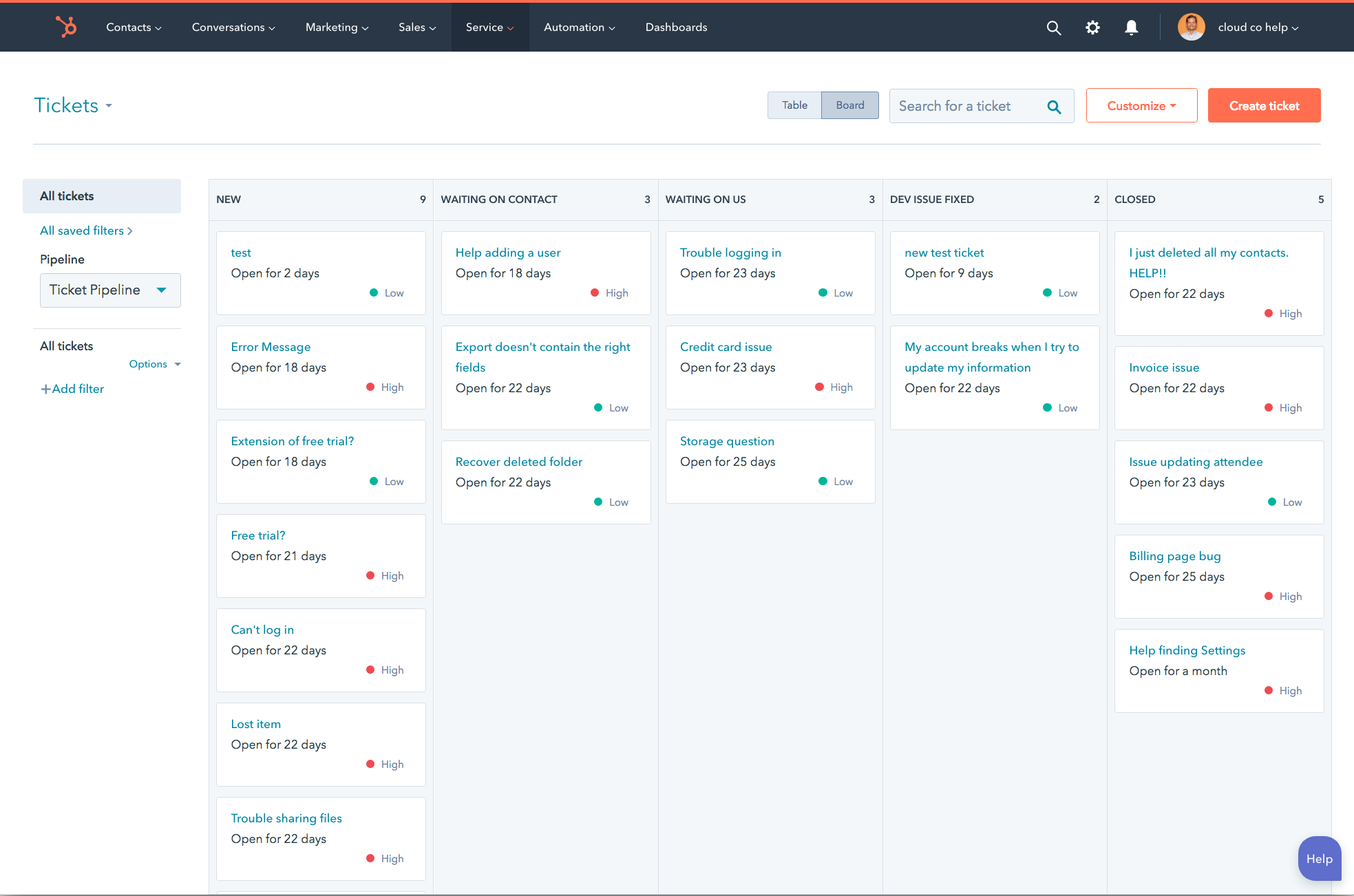 2. Too Much Friction to Request Help
Your customers always want to know more about your products and services. Unfortunately, they encounter friction in various forms, ranging from being put on hold for too long to unreliable in-store Wi-Fi. Anything that prevents your customers from getting the assistance they need when they need it is business friction that can have dire consequences on your business.
As more customers demand a frictionless experience, you must understand how it can impact your bottom line. A Forbes article shows that businesses lost about $60 billion in 2016 due to business friction, including poor customer service. Any friction across your buyers' journey can stunt your business growth and impede your overall sales strategy.
Solution: Knowledge Base + Conversational Bots
Fortunately, the Service Hub from HubSpot has tools to help you reduce business friction. The knowledge base is a resource library that provides specific information about your company's products or services. Through the feature, your customers get self-service support, accessing answers to frequently asked questions without contacting your support team.
Other features you can leverage to reduce business friction are live chat and chatbots. Chatbots help you to direct your customers to the relevant knowledge base or service agent. Live chat enables you to gain a competitive edge if you execute it properly. However, ensure you adequately train your team on its use to avoid being robotic. They also must be prepared for surges in the volume of chats when such happens.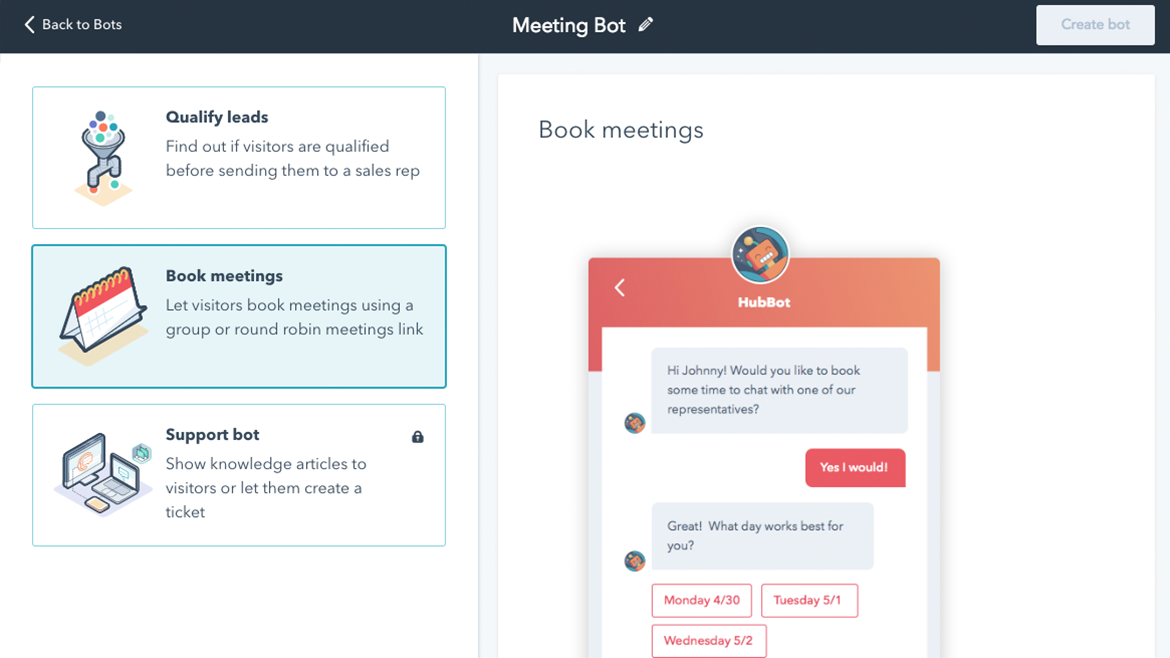 3. Lack of Customer Feedback
Customer feedback is vital for your B2B business. It provides insights into the complex relationship you share with your customers. This information helps you establish what you are doing well, what you ought to improve, and what may require a complete overhaul.
Without customer feedback, it would be hard to know the areas of your business that need continued improvement, which is a critical factor for customer satisfaction. You also remain in the dark about market trends, causing you to lose your competitive edge.
Solution: Customer Feedback Surveys
To prevent this from happening, use the Feedback Surveys feature in the HubSpot Service Hub to collect customer feedback. The tool helps you read the pulse of your customers' happiness. The different survey types you can use to collect feedback include:
Net Promoter Score survey to gauge the loyalty of your customers over time
Customer Effort Score to help you establish how easily your customers get the support they need
Customer Satisfaction surveys to measure customer satisfaction at different levels in their customer journey
4. Slow or Inefficient Communication
Communication is a fact of life, especially in your B2B business. For your business to thrive, you must have solid communication systems and relationships. Lack of communication or slow and inefficient communication leads to unmet customer expectations. With changing customer expectations, your company faces new levels of complexity as you look to meet your customers' needs faster and efficiently.
Inefficient communication leads to poor customer service and consequent loss of your customers. Your business should consider investing in effective communication strategies based on technologies and AI capabilities that reduce friction in communication. The HubSpot Service Hub provides a platform for you to improve business communication for an enhanced customer experience.
Solution: Email Templates + Sequences
Consider using the Email Templates and Sequences tools to achieve this effect. The Email Templates feature allows you to send repetitive email content to your customers after personalizing and tailoring them to meet your customers' needs. Save the best-performing email templates and use them in the future to ensure communication stays consistent and prompt.
The Sequences tool makes it possible for you to send a series of targeted and timed email templates to help you nurture your contacts over time. It also automatically creates tasks as reminders to follow up with your customers, keeping the communication going.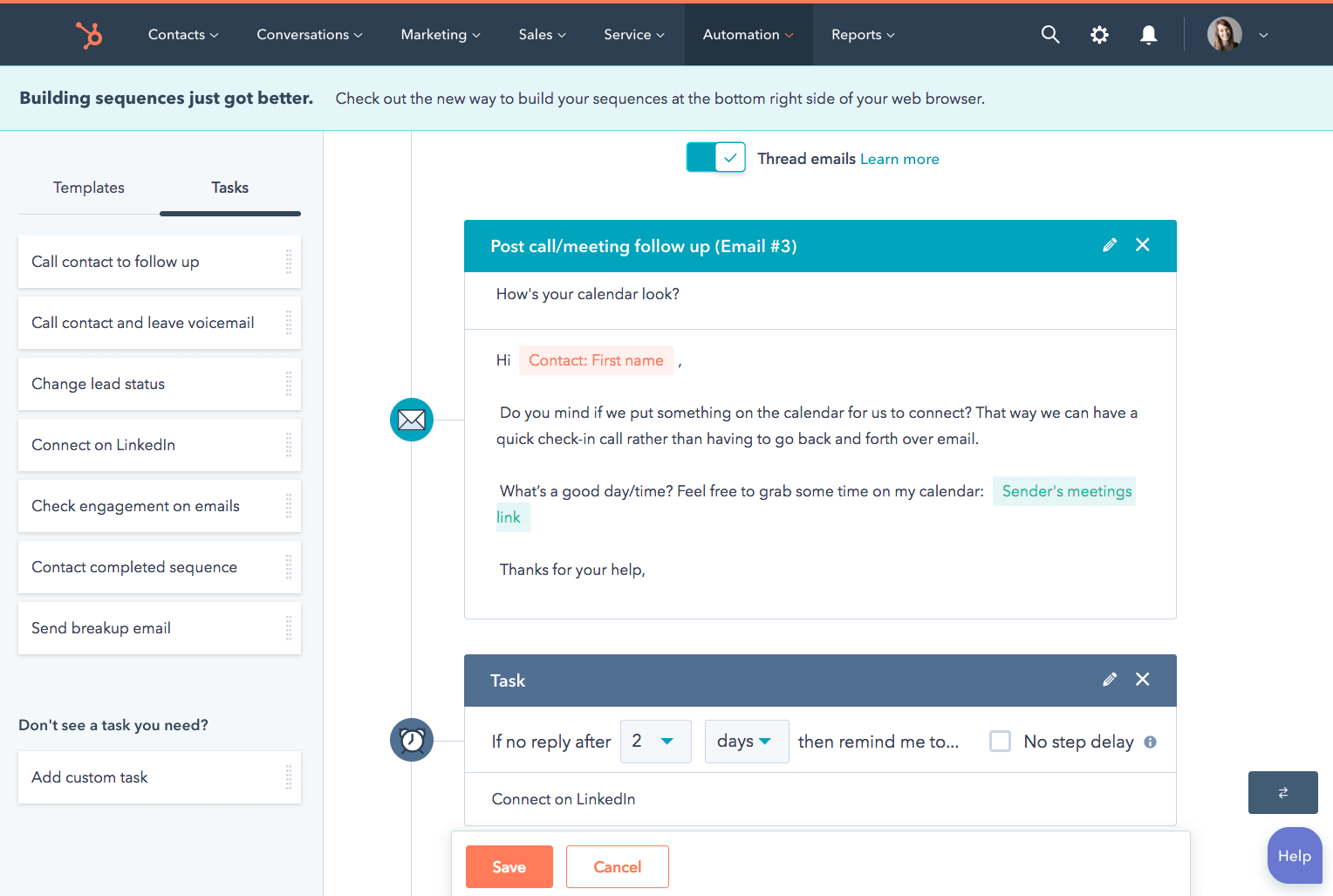 5. Lack of Team Performance Insights
How do you measure the potential of your B2B support team? While you may be data-driven and goal-oriented about your finances and sales departments, it's essential to have clearly defined objectives and targets for all departments. You need to be sure that all departments collaborate to meet customer expectations. Your customers will be willing to spend 17% more if they have a fulfilling customer experience from all departments.
When there is collaboration among departments, your company stands to benefit from the cohesion of functions. This is important because the teams avoid losing sight of the other moving parts of the organization. Teams that work together can share ideas to improve the overall customer experience.
Solution: Reports Dashboards
The Reports tool in the HubSpot Service Hub allows you to do some analysis to understand the success of every team. The starter package enables you to create up to 10 dashboards to track your sales, marketing, and service teams' performance. With these insights, it's easier for you to identify the areas that need improvement for enhanced customer experience.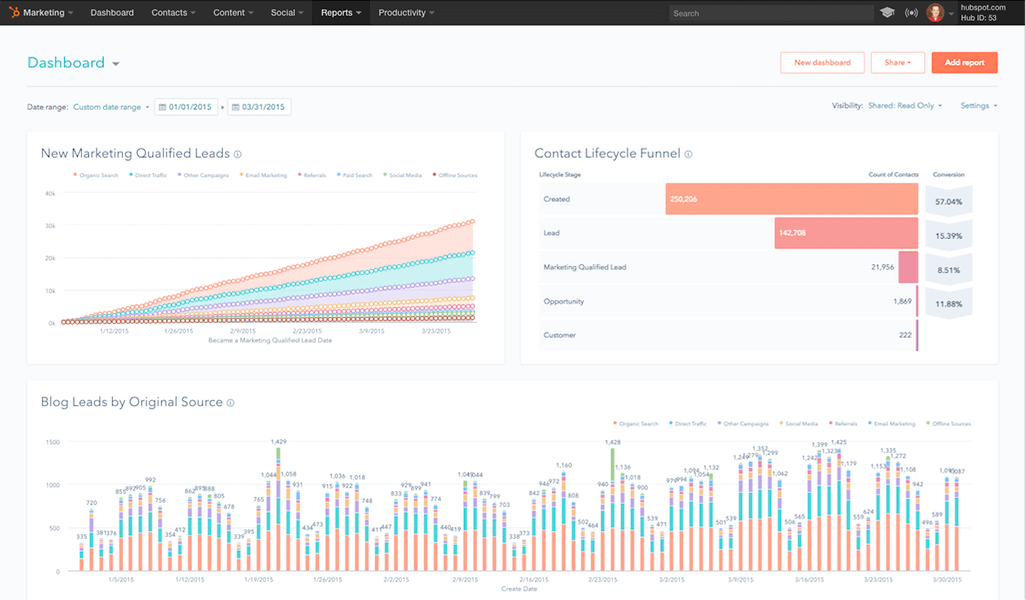 Final Thoughts
HubSpot's Service Hub has a lot to offer to help you address some prevalent customer service problems in B2B. Using a combination of these features will help you align your business operations across the entire organization. By leveraging the entire HubSpot Growth Suite, you will be on your way to breaking the silos between sales, marketing, and service for a better experience for your customers.
If you would like help to get started with the Service Hub, experts from The Gist are here to help. Schedule a free HubSpot Strategy Session to learn more about the platform and how you can leverage it to create scalable, organic growth for your business.