Digital marketing accounts for nearly half the marketing dollars spent today, and this industry continues to grow with each passing year. With this grows the demand for innovative digital marketing solutions that will get potential customers interested in what you have to say. As a business owner, you want to make sure your marketing dollars are being spent in the right place. Email marketing software, customer relationship management (CRM) software, and marketing automation are all great tools to help you attract new customers to your business, but with so many different platforms available, how can you choose the right one for your business? Below, we'll examine two of the most popular solutions, MailChimp and HubSpot, and how each one measures up when it comes to CRM, marketing automation, and email marketing.
Contents
The list below breaks down all of the contents of this article. Click on any one to jump to a specific section.
Your Introduction To MailChimp And HubSpot
MailChimp is a well-known marketing solution that has its origins in 2001 as an email marketing platform. Over time, it has added to its functionality and is now a well-rounded platform that offers marketing automation, email marketing services, and a customer relationship manager. MailChimp fans love their attractive and easy-to-use email templates that make it easy to get started, and they offer a great freemium plan for small businesses and those who just want to test the service out without having to pay.
HubSpot, on the other hand, was started as a marketing platform, focusing on all aspects of inbound marketing. HubSpot offers robust solutions for your sales, customer service, and marketing teams, and makes integrating these teams easy. With so much added functionality, it's a one-stop-shop to help your business get more leads, more sales, and more growth. HubSpot helps businesses of all sizes give their marketing efforts a boost.
Both of these platforms offer their own set of useful tools for marketers. Next, we'll compare how MailChimp and HubSpot compare in terms of email marketing, marketing automation, and CRM features.
Email Marketing Comparison ✉️
Email marketing is a great way to communicate with your leads, prospects, customers, or fans, and, when done correctly, can help to grow your sales.
Mailchimp - Email Marketing Review
MailChimp makes it easy to get started sending emails with their convenient templates. You can use their editor to create an email that features your business's logo, colors, branding, and graphics. From there, you can create an email template that you can use again and again (for example as a monthly newsletter). Once your email is sent out, you can quickly and easily track key metrics like open rate, click-through rate, what links got clicked the most, and more. This makes it simple to see what works and what doesn't.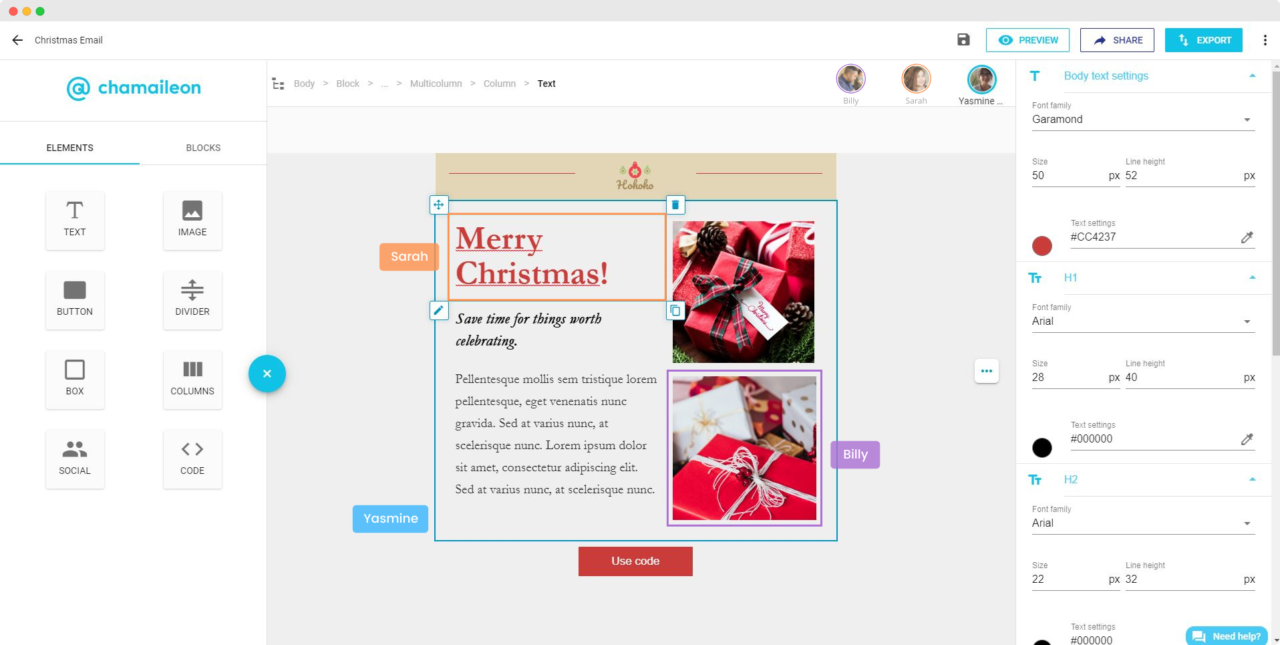 Pros
With this platform you can:
Easily modify the free templates
Import your templates
Integrate it with your current online platforms in many ways
Track you analytics and see how they compare with other users
Remove their logo if you're using their paid version
Cons
MailChimp can cancel or suspend your account without warning
You may have to spice up or invest in better templates than what MailChimp offers
HubSpot - Email Marketing Review
HubSpot is similar in that it offers a user-friendly editor and convenient tracking tools, but it adds a layer to its functionality in that it focuses on the key aspects of inbound marketing, including creating emails tailored at specific buyer personas, so you can more easily nurture leads throughout the customer journey.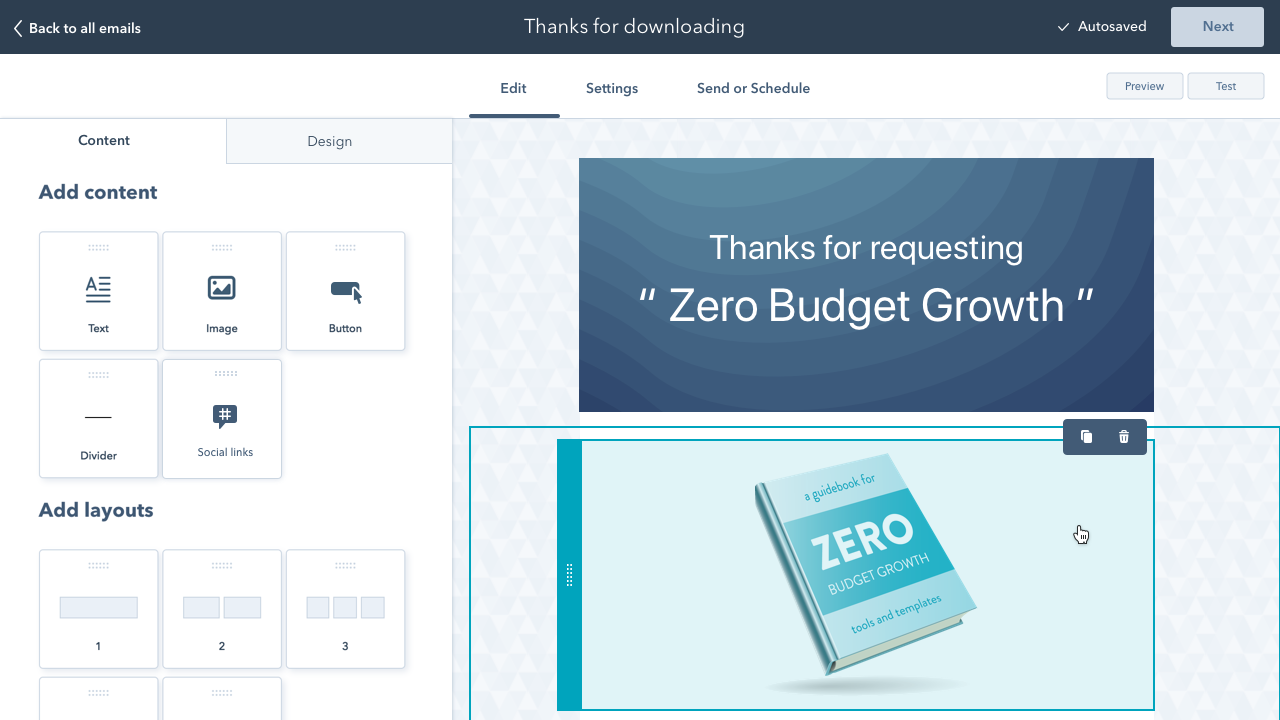 Pros
With HubSpot you can:
Opt to use its templates or create your own
Schedule emails
A lean can unsubscribe from specific email topics, or take a break
Make your emails mobile-friendly
Personalize your emails to boost the open rates
Get a plethora of analytics such as delivery rate, click rate, and open rate
Cons
Price increases as your database does
It doesn't offer A/B testing, unless you sign up for their Pro or Enterprise package
Both of these platforms are intuitive, though, so you don't have to be a tech wizard to start sending out attractive and engaging emails to your constituents. And both allow you to track analytics so you know you're spending your marketing dollars in the right place.
---
Marketing Automation Comparison ⚡
Marketing automation is, by definition, using software to automate some marketing processes, like sending out autoresponders, posting on social media, and creating ad campaigns. Both MailChimp and HubSpot offer some level of marketing automation.
Mailchimp - Marketing Automation Review
In MailChimp's free subscription, you'll get access to autoresponders, but if you want more functionality, you'll have to sign up for a paid plan. Autoresponders are email messages that automatically go out when someone takes an action on your website, i.e. signs up for your list. And MailChimp easily works with other software and platforms to make integration more seamless.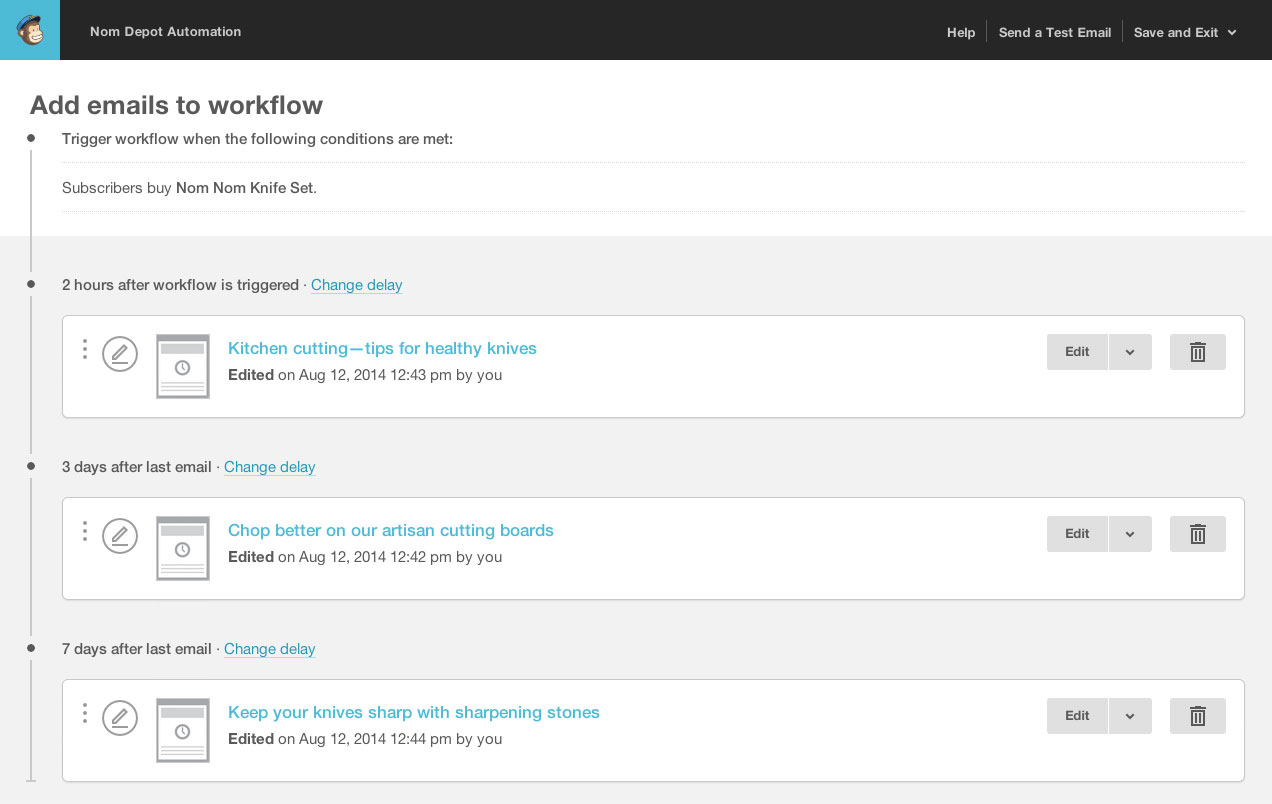 Pros
The marketing automation allows you to:
Send email blasts and targeted emails
Customize your clients purchase journeys
Schedule email sending
Send personalized transactional
Connect your e-commerce platforms and automate email sending
Cons
For high volume users, the learning curve can get quite steep
Autoresponders don't support imported contacts - only work if the contact has subscribed from a web form
Limited email segmentation
HubSpot - Marketing Automation Review
HubSpot offers a little more when it comes to automation, especially in their pricier plans. You can easily send out a message to a specific segment of a specific list at a specific time, which, again, makes lead nurturing a breeze. However, to get the most out of HubSpot's automation features, it's best to have a little knowledge and prior experience with automation so you can get more value out of your plan.
Pros
Sales integration to close the gat between sales and marketing
List segmentation capabilities
Lifecycle tracking of marketing efforts in ROI
Email triggers to provide insights into visitors' behaviors
Cons
Might be a bit expensive
Has a steep learning curve
---
CRM Comparison 💻
CRM, or customer relationship management, is a key aspect of sales and marketing. It lets you see who is in your pipeline and where they are in the process. With a CRM, you can easily segment your constituents based on where in the buyer's journey they are, so you can target specific messaging to them at just the right time. You can also use a CRM to keep track of all the details about individual customers so you can gain more insight into specific relationships within your business.
Mailchimp - CRM Review
MailChimp doesn't offer robust CRM tools as HubSpot does, but it does give you an easy place to keep track of everyone you interact with.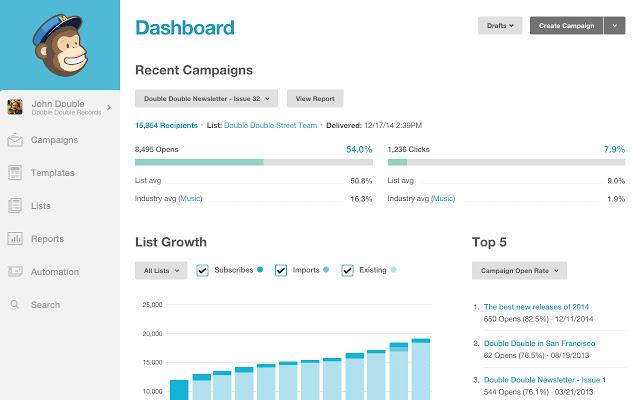 Pros
Ready-made segments for your audience data
Easy to use
Easily create your segments and tags
Audience dashboard gives you a robust insight into your audience patterns
Comes with segment-based message triggers
Cons
Lacks lead scoring
No task and territory management
HubSpot - CRM Review
HubSpot has a built-in CRM, which integrates easily into all the other aspects of the HubSpot platform. This makes it simple to see all your contacts at a glance, which makes it a great tool for both your sales and marketing teams.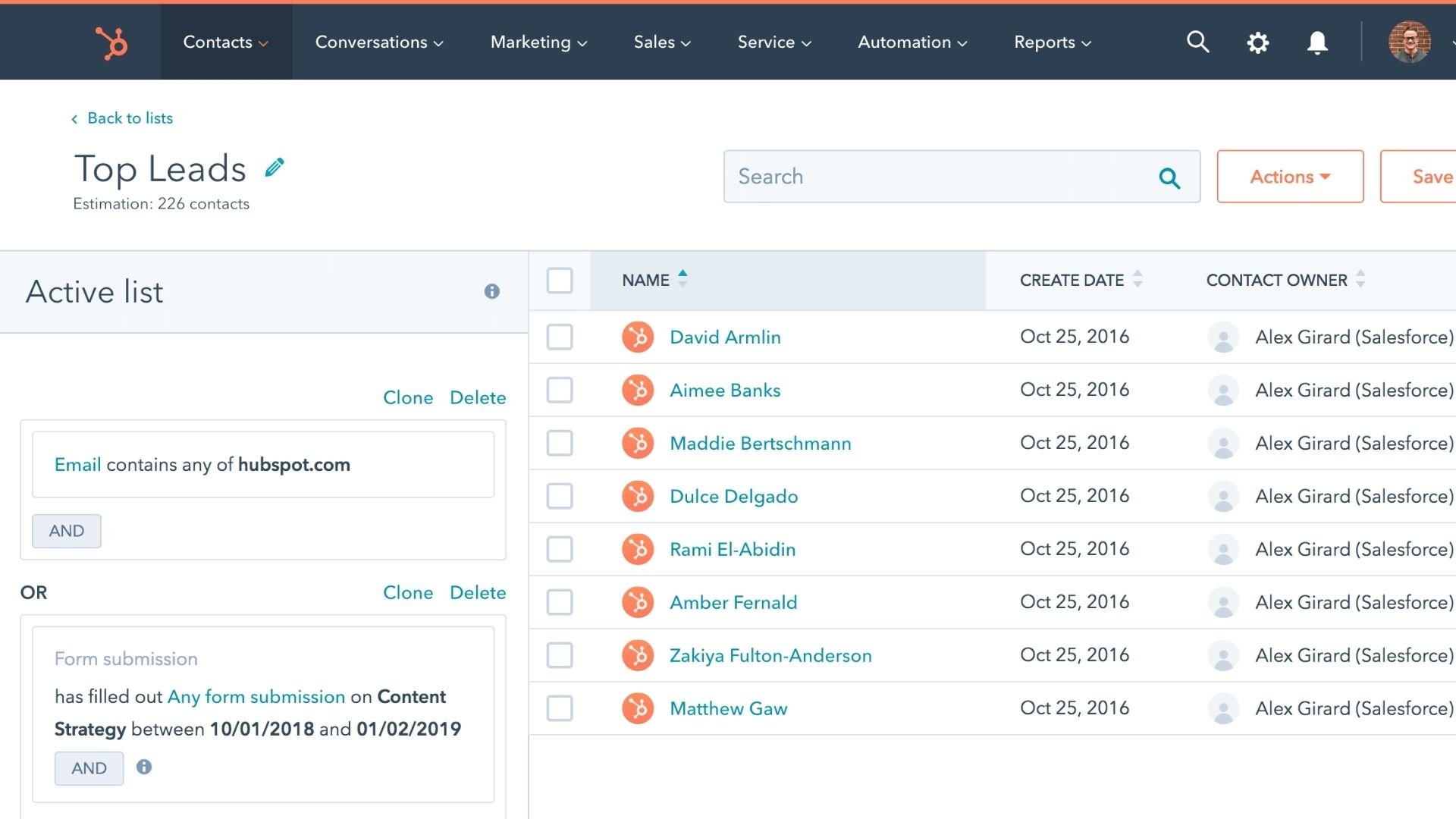 Pros
Easily connect to sales, marketing and service hubs
Provide tracking tools to analyze deals in the sales pipeline
Most of the functionalities are free of charge
Tracks prospects activities, like phone calls, social media, and other touch points
Cons
The reporting tools don't provide deep insights and information
It's still new and growing features
The wide range of features means limited depth
Less flexible if your processes are complex
---
The Bottom Line - Choosing The Right Platform For Your Business
Both HubSpot and MailChimp are fantastic marketing tools for businesses of all sizes. For some, MailChimp wins out because of its free plan (you can store up to 2000 contacts). This makes it a great place for small businesses to start. And you can upgrade your plan as your business grows, with their top tier plan maxing out at $299 a month. For others, HubSpot wins out because it's so packed with useful features. HubSpot also offers a free tier with basic functionality but their plans can go up to $3,200 a month for a full suite of features.
We're serious when we say we're fans of both Mailchimp and HubSpot. But there are cases to be made for one or the other depending on your situation.
Maybe consider using Mailchimp if:
You want to email to a list and not much else
You have a lower budget
You need to get up and running ASAP
You need the platform to be intuitive and easy to use
Maybe consider using HubSpot if:
You want to implement a comprehensive growth strategy that includes multiple sales and marketing components like lead generation, lead nurturing, ad campaigns, social media and more
You can have a low-to-medium budget
You have the time to strategically build everything out
You want access to direct, personal support
You need the platform to be intuitive and easy to use
If you're still unsure of which platform to use, an email marketing agency can help you make a decision. The Gist is a certified HubSpot partner, but our team is a huge fan of MailChimp too! We understand the ins and outs of these platforms and how to get the most out of each one to fit your individual needs. Contact us to schedule a free growth consultation today!