Your business's website is one of its most powerful tools. It helps you get the word out about the services you provide and is a great way to attract new customers. As a business owner, you want a website that is reliable and easy for both your employees and your visitors to use. A content management system (CMS) is a website-building platform that businesses can use to create a site from the ground up. While there are a lot of CMS platforms on the market today, WordPress and HubSpot are two of the most popular and user-friendly. Let's take a look at how these two platforms square up, so you can decide which is right for your business.
Content Management Systems: The Basics
A content management system makes it easy to create a beautiful, easy-to-navigate website, even if you aren't very tech-savvy. You don't have to have any front-end web design skills or programming expertise to get a website up and running with a CMS. Most CMS options can help you build a custom website in a matter of hours.
Many of the most popular CMS platforms today are feature-rich, adding to the functionality of your website. With these platforms, you'll be able to easily publish content, optimize it for search engines, and gather data about who visits your site. Using a CMS is a great choice for big and small businesses alike because it saves time and money on website creation and management.
What is WordPress?
WordPress is the most widely used CMS on the planet, powering hundreds of millions of websites. WordPress is so popular because it's open-source, which means that anyone can view and improve upon the code that powers the platform. Programmers build plug-ins for WordPress, which are essentially add-ons that increase functionality. You can add a plugin that adds a shopping cart to your site, or a plugin that integrates your email marketing or customer relationship manager, so all your software is working together.
With all the available plug-ins, you can use WordPress to build complex websites with thousands of pages, or simple sites with just a few pages. The platform is safe and secure, and easy to manage, even if you're a beginner.
What is HubSpot CMS?
HubSpot CMS is a content management system developed by the popular inbound marketing company HubSpot. HubSpot offers a huge suite of products aimed at optimizing your sales, service, and marketing teams. While HubSpot CMS is relatively new to the scene compared to WordPress (which was launched in 2003), HubSpot is known for creating powerful tools that users love.
Like WordPress, HubSpot is simple to use for anyone and can easily be integrated with many of the other tools you're already using. Because HubSpot is rooted in inbound marketing techniques, much of what their CMS offers is focused on creating a stellar customer experience. Unlike WordPress, though, all the functionality is built right in, without needing to download plugins.
HubSpot vs. WordPress: The Pros and Cons
HubSpot and WordPress are both great tools for anyone looking to build a website for their business. At each platform's core is a host of tools that you can use to build a website, but both WordPress and HubSpot have things that make them unique. Each has a number of positives and drawbacks, so it's important to learn more about each before you decide which is right for your business.
Below, we'll take a closer look at what's great about each of these platforms, and where each is lacking.
HubSpot
Many people are drawn to HubSpot because the brand is so well-respected in the marketing sphere. HubSpot's CMS Is particularly great if you're looking to optimize your site for search engines. HubSpot makes SEO easy and will give you suggestions on how to improve content for SEO. This means that if you're looking to boost your organic traffic, which in turn will raise your conversion rate, HubSpot may be the right tool for you.
The screenshot below demonstrates how HubSpot CMS users can organize their content by conducting keyword research to form topic clusters, and then making sure each page in the topic cluster is properly linked to demonstrate their relatedness to search engines.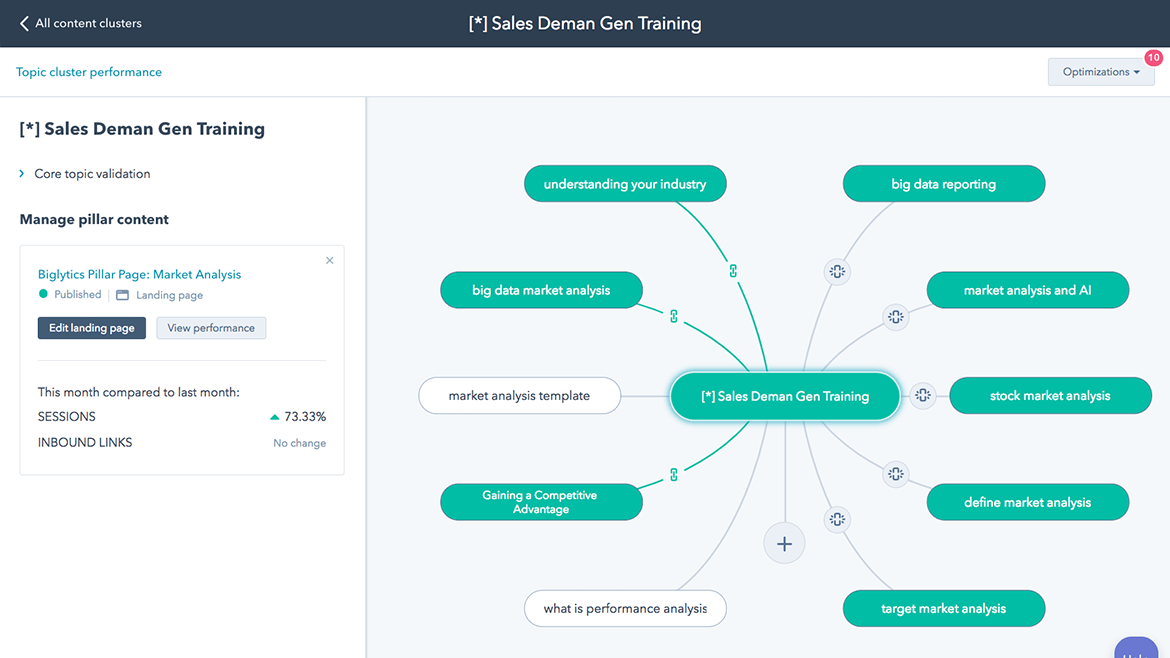 One thing that draws people away from HubSpot, though, is the cost. While they do offer a free trial so you can check out their tools, HubSpot's CMS Hub starts at $300 per month. Another consideration is that while HubSpot offers so much functionality and so many helpful tools, it's important to partner with an agency and/or have an expert on your team, so you can get the most out of your subscription.
WordPress
Because WordPress is used by so many people around the globe, it's easy to find support if you're having an issue. WordPress forums can help to quickly answer any question you may have. Many people will also point to the fact that WordPress's most basic tier is free, which means that, after purchasing a domain and acquiring hosting, you don't need to pay for anything - no monthly or annual fees. And if you need more storage space or more advanced tools, their monthly plans are very reasonably priced.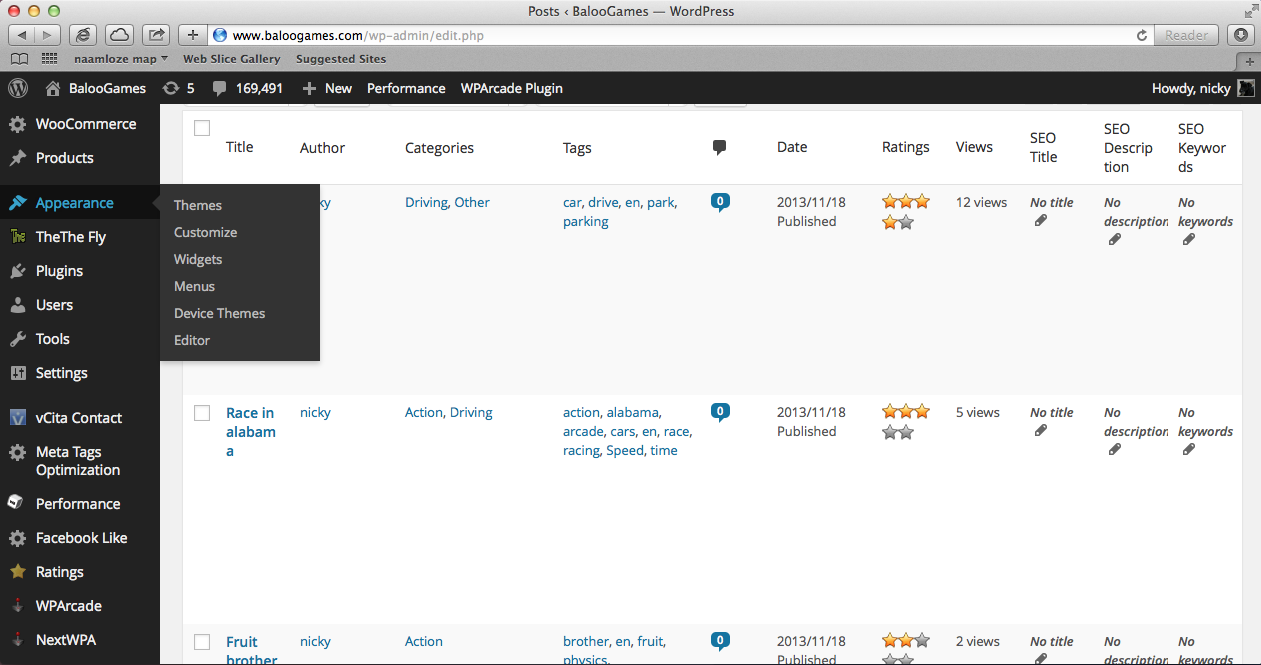 WordPress's use of plugins is a pro for some people, while it's a con for others. You can install the plugins that you need to improve your site without any functionality going to waste, but you need to constantly update plugins to keep them working properly. In addition, many people find that having a little HTML knowledge is helpful when using WordPress, while this knowledge is really unnecessary when you're using HubSpot.
Essentially...
HubSpot CMS offers significantly more options and functionality in one easy to use place. It takes care of hosting, security (SSL certification), content delivery network (CDN) and a variety of other important web maintenance priorities. For marketing teams, the drag-and-drop editor is cleaner and easy to use. And it's easier to connect your website content with other marketing priorities like forms, CTAs, content strategy and your prospects and customers through content personalization. For a lot of marketers HubSpot CMS is truly a no-brainer.
On the other hand, it costs $300 per month, where Wordpress is essentially free. And Wordpress is the world's most popular CMS. More web developers built sites on Wordpress than on HubSpot.
Keep in Mind...
Both WordPress and HubSpot are excellent tools, and it all comes down to which meets the needs of your business better. If you're looking for a powerful package that is easily integrated with all your business's teams, HubSpot CMS may be the way to go. WordPress is a little more do-it-yourself, and it may take a bit of experimentation to build the perfect deck of plugins to get your site off the ground.
Your website is such an important business tool, and deciding on a CMS can be difficult. If you need a little more help choosing the right platform for you, contact us. The Gist is a certified HubSpot partner that specializes in HubSpot CMS website development, but we welcome WordPress users, too!